Holy cow, where do I even start?!
Peru is INCREDIBLE! My ten day visit went by in the blink of an eye. When I look back through my photos and my journal and I can't believe we managed to do everything that we did. I also can't believe that I ate everything that I did. In case you didn't know, Peru is the gastronomic center of South America. I'm sure Colombia or Argentina may dispute that but they would lose. Badly.
Mind you, I was chaperoning so most of the food we ate was buffet style but we still managed some good dishes here and there. Let's start with the sweet stuff first.
Our first day in Lima had us tearing around cobblestone streets, flying by pop up food stands left and right and finding ourselves in the middle of the Corpus Christi Procession near Plaza de Armas. When we finally paused for a moment I found my way to one of the food stalls, this particular one selling baked goods. While there were a variety of sticky, sugary items to choose from, the one that caught my eye was made of bread, layered with dulce de leche and pineapple jam. I had yet to break any of my larger bills so I couldn't pay the woman the 2 soles (USD sixty five cents!). As I gave her a sad smile and began to walk away, our tour guide fished out a two cent piece from his own money and bought us one to share! This, by the way, would prove to be the first of his many acts of kindness. He told me this was called "Kinkon", you know, like King Kong. I must have looked a bit perplexed because he then continued to explain that it was made in one huge slab that was cut into smaller pieces for sale. The bread was relatively plain but the jam and dulce de leche made it plenty sweet.
The next day we flew into Cusco and once we were settled into the hotel I darted to the bodega across the street for multiple bottles of water and snacks to hold me over until dinner. The place was no larger than my galley kitchen but it was crammed from floor to ceiling with snacks of all varieties. Some of these snacks were American products with the occasional random flavor here and there. Others were typical Peruvian snacks wrapped in brightly colored foils and plastics. Instead of chips or crackers I went to examine the items in the small glass case at the front of the shop and that's where I saw them: the alfajores.
Alfajores are a typical South American cookie that I associate most with Peru. Apparently I am wrong to do so because it's Argentina that eats the most of them. Regardless, I saw the thick cookies sandwiched together with creamy dulce de leche and dunked in a heavy coating of powdered sugar and promptly bought one. It was so sweet and delicious only managed to eat half of it. I saved the rest for the next day and it was still tasty but nothing like the day before. I considered bringing some home but given the need for freshness they would probably end a stale, crumbly mess at the bottom of my bag.
When it was time to eat an actual meal I had at least four different versions of lomo saltado. Lomo saltado is essentially a beef stir fry with some form of cut potato, red onions, and rice. The beef is marinated in soy and other spices, spices and quantity vary from recipe to recipe, which incorporates the Chinese culture found in Peru. The best version of this dish was a Casa Qrikancha in Cusco. We had watched a cooking demonstration earlier in the day with their head chef and stayed for lunch as part of the excursion. A huge plate of potato wedges, red onions and strips of beef surrounded a pile of rice in the center...and I can't find one picture of it on my camera or my phone.
With the aforementioned cooking demonstration we also visited the San Pedro Market. It's stand after stand of produce, cheese (so much cheese!), breads, grains, and more. Back to what I said about Peru being the gastronomic center of South America, well, this is why. They seriously have every food imaginable. And then some that you can't even imagine. Like the potato. There are about 3,000 varieties of potatoes in Peru, I think I only tried three of them. There were hundreds of grains I'd probably never see again in my life just piled into five gallon buckets like it was nothing. All future farmer's markets trips will pale in comparison.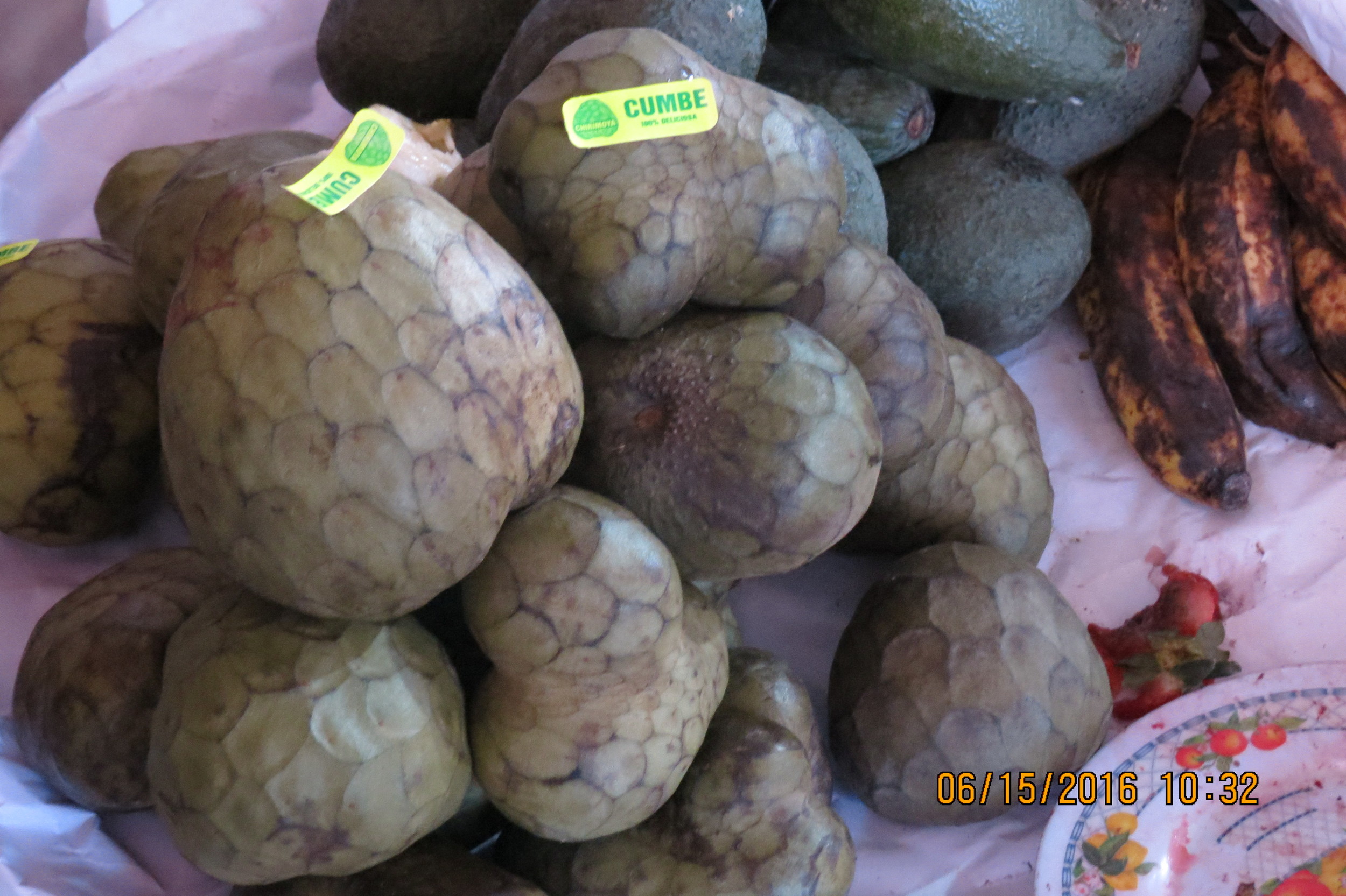 As far as adventurous eating goes, I did get to try alpaca. It is a low cholesterol meat that falls somewhere between pork and beef in texture. I don't know how mine was seasoned but it was delicious and cooked a perfect medium well. It had a slight gaminess to it but I enjoyed it more than I thought I would.
I wanted to try cuy (Guinea pig) but the only time we had the chance my stomach wasn't cooperating with altitude so I skipped it. Had I know it was the only opportunity I would have sucked it up. I was pretty annoyed with myself for the rest of the trip but even given another opportunity it wouldn't have mattered. With our last two days at 12,500 feet any appetite I had diminished drastically. I found it amazing that at 11,000 feet I had no symptoms of soroche (altitude sickness) but another fifteen hundred feet and majority of us were dizzy and clutching our stomachs. I survived on mini pancakes, rice and soup, very traditional, I know.
I clearly only scratched the surface of all Peru has to offer both culturally and gastronomically. I'm not sure how or when but all I know is I'm going back. Until the next dish, ciao!