Well, what can I say? Yes, I've been MIA for a while, I know, sorry. Home ownership has been a bit of an ordeal these last few months and discouraged me from cooking or doing much of anything social. Thankfully things calmed down right before my trip to fabulous Italy!
Steph and I spent months on end planning our 11 day trip that covered Rome, Siena, Florence and Chianti. I would highly recommend traveling end of March to beginning of April since the crowds were large but manageable. The weather was also perfect: mid forties to fifties at night and mid sixties during the day. No need for layers but, man, get yourself some inserts for your shoes because we walked between 8 and 11 miles a day! Makes me feel less bad for eating my face off.
Rome is a historical smorgasbord that will satiate any appetite for knowledge. The food was good, especially the carbonara sauces we tried at Roscioli and Da Enzo but Rome was also our first real exposure to the Italian "al dente". Growing up in an Italian household this style isn't anything offensive but Steph found it under cooked. And to be fair some of it was; some rigatoni were a little white on the inside but it didn't bother me as much.
One of our favorite meals was at the osteria ten steps from our Airbnb in Siena. We had dinner and lunch there since we enjoyed both the food and the service. We didn't think we'd need a reservation for dinner but in Italy every night of the week needs one, so we had to wait until nine. Actually nine thirty since they were running behind. The staff gave us some bubbly on the house while we perused the menu and admired the building. The main dining area is in the building but it quickly descends to a lower basement level that is dug out of stone into little niches, which provides a more intimate, romantic dining experience.
Our puff pastry appetizer with duck pate and poppy seeds flaked just enough to reveal the savory goodness hidden between the layers. Not long after our wild boar ragu arrived and it was worth waiting until 10:15 to eat. The shredded pieces of boar were tucked between pieces of pappardelle and coated in an umami filled wine based sauce. The gentle crunch of toasted almonds made for a perfect complement of texture and flavor. We returned the next day for lunch and it was equally as good. In addition to the ragu, we also had ribollita, an Italian stew essentially made of kitchen extras and this was nothing like the one I tried to make. The stew was slightly pureed but still hearty with full beans and pieces of kale in every bite. I asked for the recipe and our serve politely smiled and said, "You can find ribollita on internet". No secret telling here.
We headed to Florence and I proceeded to fall in love. The city is is breathtakingly beautiful. We stayed right next to Piazza Santa Croce, which was walkable to everything we wanted to see. We also happened to be blocks from the San Ambrosio market which I absolutely recommend if you have a kitchen while in Florence. We saved ourselves some money and cooked a few meals in and they were better than some meals we had out! We had a fennel packed sausage, crisp asparagus, creamy bufala mozzarella and doughy focaccia to name a few of our favorites.
The best meal out in Florence came to me via a parent who said, "If you go to just one place on this list, go to Trattoria Sostanza." For a local place it is very well known amongst tourists. We were seated with a French couple and a German couple and we promptly ordered the butter chicken as instructed. The server also recommended the artichoke "pie" (it was essentially an omlette but SO good) so we indulged in that too. The pie was eggs mixed with flour and topped with butter and browned artichokes, which was rich and rustic all at once. Artichoke season is an exciting time in Italy for both chefs and diners. You'll find it prepared in a multitude of ways, most better than you could have imagined i.e. this pie.
Now the butter chicken. Well, it was simply superb. Bathed in butter the skin remains crisp and the meat moist, a winning combination.
Lastly, we spent a day wandering Chianti and made our way to the most anticipated (for me anyway) restaurant of the trip located in the small town of Badia a Passignano. Badia means "abbey" in Italian and the swirling gray tower that dominates the horizon lives up to the name. I looked up the town prior to leaving to find it is comprised of primarily residences, three restaurants, and said abbey. Most of the swooping hillsides were apatchwork of olive trees and vines belonging to the Antinori family. They produce a superb Chianti Classico that is aged in the cellar of the abbey...and they pretty much own everything in town.
Hungry for lunch we went into the Osteria di Passignano, owned by none other than the Antinori family. I did my research prior to leaving and the menu items were exponentially intriguing and offered modern takes on classic Tuscan fare. We were seated at a quiet corner table and quickly surprised with a quartet of amouse bouches from our lovely server Simona. A dab of fresh green tomato puree and paper thin slices of eggplant in a mini parmigiana were a taste of good things to come. Steph ordered a parcel type of pasta filled with fava beans in this artic white cheese sauce and topped with pear and pecans, which was both refreshing and decadent. My whole grain farfalle with savory lamb and artichoke was topped with an egg based sauce similar to carbonara just a million times better. Those basic descriptions do no justice to the fresh and creative flavors of each dish. For dessert we had a mixed plate of fried polenta and rice (note: go to Tuscany during Carnaval, it's the only time of year to get the fritelle di riso) served with berries and the airiest chocolate mousse known to mankind. Oh, I can't forget to mention the tiers of petit fours they brought out with the check. If we weren't impressed before we were now; the pillowy bite sized piece of ricotta cheesecake was so reminiscent to that of my late grandfather's recipe that I was actually rendered speechless.
Six hours later we returned for dinner. Don't judge, we just know a good thing when we taste it. Once again we were greeted with amouse bouches but it was fish based and I wasn't taking any chances with my allergy. Steph said the cod and potato mixture simply melted in her mouth and I promptly cursed my body and stared wistfully at each spoonful. Moments later the wonderful Simona came back with a different dish just for me! I didn't ask for or expect anything and both Simona and the kitchen went out of their way to make another dish, simply good business. The dish was a base of chicken liver pate with thin crisps of artichoke topped with an artichoke mousse. I knew Italians were serious about their artichokes but man, they really know how to capitalize on this seasonal wonder. Artichoke mousse I tell ya, who knew?
My dinner was a creamy pigeon risotto laden with bite sized pieces of meat coated in an earthy, velvety sauce truly epitomizing Tuscan flavor. The taste lingered on my taste buds (and in my memory) for days after, cementing itself as one of my all-time favorite dishes EVER. Since Simona spent some quality time with us for most of the day I figured we were cool and I could ask a favor of her. The chocolate mousse was just so divine on its own could we, per favore, have a large bowl for dessert? The answer is yes, yes we can.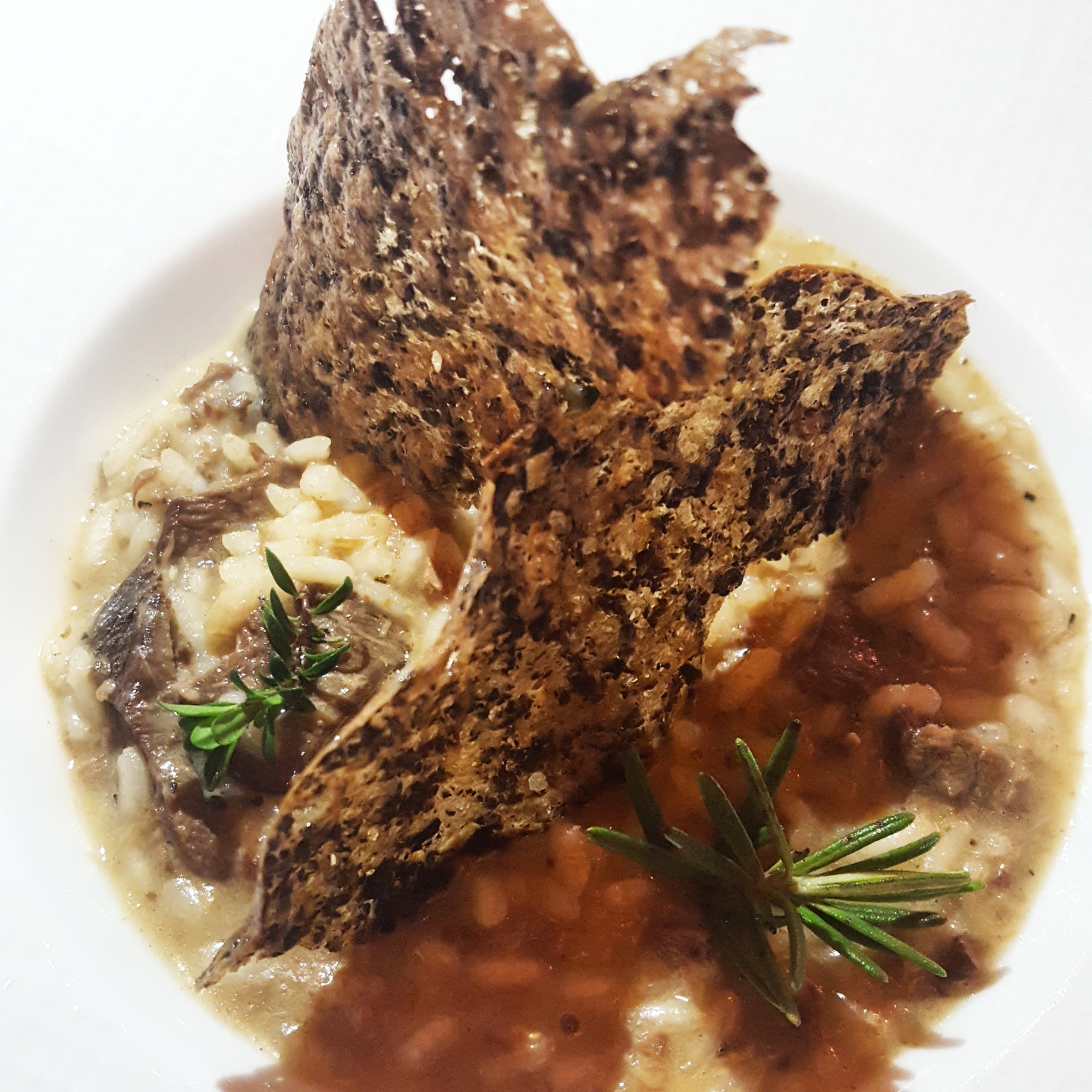 Our meal at Osteria di Passignano was not only a highlight but a summary of our overall trip: starting off eager, full of nervous excitement and ending completely satisfied. Well, I don't know about completely, I will only be completely satisfied once I know I have a return trip booked! Until the next dish, ciao!